PROFILES IN NATURE
Periodical Cicada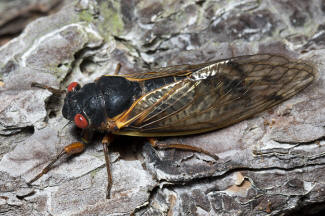 Photo Credit – www.kentuckyupclose.com
There here! For the ones of you that have been following my column, I have made mention at least a couple of times that the Periodical Cicada is due here again in 2015. I found and captured the first ones on 05/12/2015.
Commonly called "13 or 17 year locust" this insect isn't really a locust at all. That would be a grasshopper and we don't have the species that cause those swarms here. Instead, they are cicadas. Periodical cicadas differ from annual cicadas in that they have a several year life span (either 13 or 17 years) whereas the annual cicada has a lifespan of 2 to 3 years, they are considered annual because there are always a few that emerge each year. Periodical cicadas can easily be distinguished from annual species. They are much smaller and all 7 species have bright red eyes. The different broods of periodical cicadas are well documented and maps exist of the years of emergence as well as the areas that will be affected. What we are seeing this year is Brood # XXIII, the Lower Mississippi Valley Brood. This is a 13 year cicada.
There are 7 described species of periodical cicada, 4 thirteen year and 3 seventeen year. All of them are in the genus Magicicada. The emergence of brood XXIII this year should be nothing short of spectacular. This brood contains all 4 of the 13 year species and covers areas of AR, IL, IN, KY, LA, MO, MS, and TN.
Cicadas are harmless to humans. They have piercing mouthparts to suck sap from twigs and an ovipositor to pierce bark and lay eggs, but do not use these for defense.
After digging an emergence tunnel, mature nymphs will crawl up some structure and shed their skin, this process is called ecdysis. Adults only live for 4 to 6 weeks during which time they call, mate, and lay eggs. The female makes a slit in a twig and deposits eggs. Around 20 eggs are laid in each slit and individuals may lay up to 600 each! Many of these twigs later will die beyond the pierced site and dead twig tips or "flagging" will be evident of many trees in the area. When the young hatch they are about the size of a small ant and will fall to the ground and burrow in which is where they will spend the next 13 years before emerging again in the year 2028! During these 13 years the nymphs will undergo 5 stages of growth while feeding on sap and juices from plant roots.
While generally considered harmless, sometimes the sheer numbers of insects laying eggs may damage young trees. About the only protection from this would be to cover smaller trees with some type of screening or netting.
For most of us, just set back and enjoy one of nature's shows!
© 2015 Jack Glisson of WWW.kentuckyupclose.com
Published in The Ballard County Weekly 05/20/2015